EAST HARTFORD, CT (8/14/2023) –  
U.S. Senator Richard Blumenthal (D-CT) held a press conference at The Governor's Prevention Partnership office in East Hartford, Connecticut, to call on the Food and Drug Administration (FDA) to take urgent action on banning flavored vaping products. The conference assembled experts, advocates, and youth to shed light on the alarming rates of e-cigarette use among young people. 
The Senator expressed deep concern over the FDA's nearly two-year delay in finalizing its review of premarket tobacco product applications for e-cigarettes. The urgency of this issue is underscored by the 2022 National Youth Tobacco Survey, which revealed that more than 2.5 million high and middle school students use e-cigarettes, with nearly 85 percent of youth users reporting flavored e-cigarette use. Disposable e-cigarettes were identified as the most commonly used devices among young adults. 
"The vaping companies are taking a page from Big Tobacco's playbook; they are pitching to kids," Senator Blumenthal said. "They are using flavors, mint, bubblegum, blueberry, raspberry, menthol, all kinds of flavors that make vaping more attractive, to hook kids, and then addict them." 
Congressman John Larson of Connecticut also attended today's press conference and echoed Senator Blumenthal's sentiments.  
"It's past due for Connecticut to act," Larson said, "and also for us to have national legislation that's been sponsored by Senator Blumenthal."  
Ruth Canovi, Director of Advocacy for the American Lung Association, and Roland Harmon, Co-President & Chief Program and Administrative Officer for The Governor's Prevention Partnership, joined Senator Blumenthal in highlighting the urgent need for FDA action. 
"The FDA must complete its review of e-cigarette marketing applications for all flavored e-cigarettes, including menthol-flavored products, as soon as possible but no later than the end of 2023," Canovi said. "The FDA must protect our youth and end the youth vaping epidemic." 
"We have been warning about the dangers of vaping from the very beginning and continue to push for common sense policy and prevention practices that keep these products out of the hands of those who are the most vulnerable," Harmon said. "It's cliché, but it's true that an ounce of prevention is worth a pound of cure."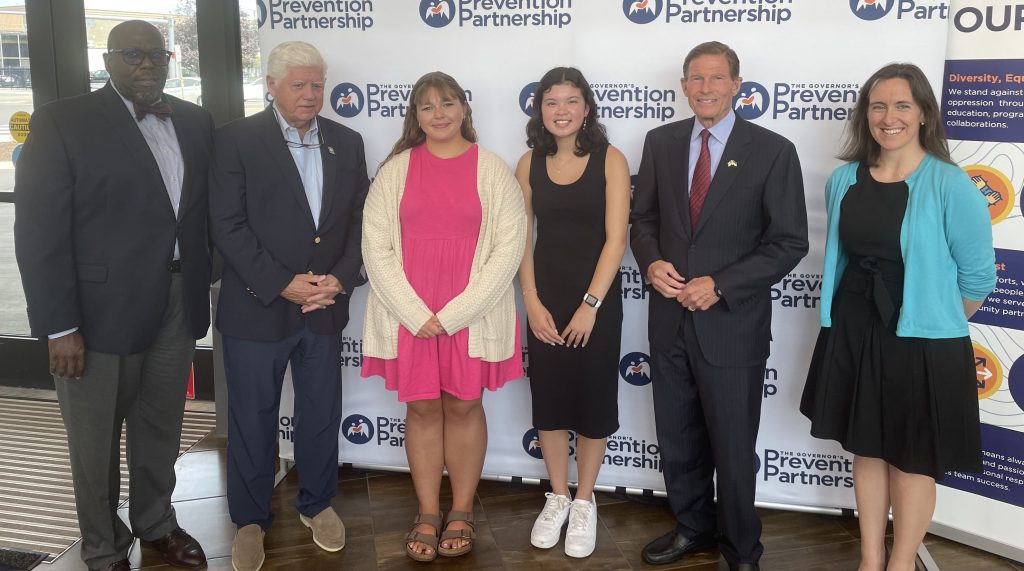 Two youth advocates from The Partnership's Youth Advisory Board, Kya Aranha, and Samantha Pach, also spoke, highlighting their efforts to prevent vaping in their school communities. 
"Every day in school last year that I went to the bathroom, I was always greeted by a pleasant, fruity smell, "Aranha said. "But this wasn't the smell of someone's perfume or body spray, or somebody's lunch; it was the smell of vape. Change needs to begin now by pushing vaping companies to stop marketing their products toward teens." 
"Often times when you walk into the bathroom at school, you are hit with a fruity or candy-like smell," Pach said. "This is clearly a marketing tactic used toward teens, not adults, and it also makes teens afraid to use the bathrooms at school [because] if an administrator walks in they're going to get in trouble." 
The press conference reaffirmed the necessity of the Preventing Opportunities for Teen E-Cigarette and Tobacco Addiction (PROTECT) Act, introduced by Senator Blumenthal in 2021, which seeks to establish an e-cigarette prevention program for young adults at the Center for Disease Control. 
The gathering served as a powerful call to action, uniting leaders, experts, and youth in a shared commitment to tackle a pressing public health concern. 
For more information about the press conference or to schedule an interview, please contact Andrew Kufta, Director of Marketing and Communications (Andrew.Kufta@PreventionWorksCT.org)