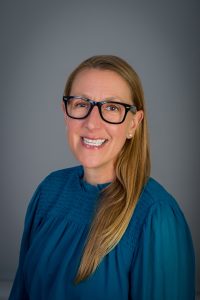 The Governor's Prevention Partnership is delighted to announce the appointment of Hannah Granfield-Horton as its new Director of Strategic Engagement. Granfield-Horton will play a key role in diversifying The Partnership's funding strategy, and launching the organization's first-ever individual giving campaign, a critical step towards future sustainability of the organization.
Granfield-Horton's role will also include overseeing the launch of a new program to distribute drug disposal pouches in the Greater Hartford and New Haven areas, providing her with an opportunity to leverage her strong relationships with potential individual donors and corporate partners.
This is a homecoming for Granfield-Horton, who had previously been with The Partnership from 2014 to 2019. During her initial time with the organization, she managed juvenile justice mentoring efforts and later progressed to the role of Director of Mentoring Services. Her return to The Partnership marks a significant step forward in enhancing the organization's outreach and fundraising efforts.
Since leaving The Partnership, Granfield-Horton successfully oversaw the fundraising effort for Goodwin University as the Director of Goodwin University Foundation. Known for her active involvement in the community, she brings a wealth of knowledge and expertise to her new role, particularly in the areas of non-profit fundraising, program management, and leadership.
"I had the pleasure of working with Hannah during her previous tenure at The Partnership," said Kelly Juleson, Co-President of The Partnership. "Her wealth of experience and deep commitment to our mission makes her an invaluable addition to our team. We are thrilled to have her on board to drive our strategic engagement initiatives."
"I am thrilled to return to The Partnership," Granfield-Horton said. "I look forward to applying my experiences and skills to further The Partnership's critical mission of protecting young people from the dangers of drugs and alcohol."